Draft Players for Sports Leagues
OnlineDraft will make your Sports League Draft easy, efficient, and fun. Setup is simple and it is free to try. The Draft is similar to fantasy sports drafts with all the features your league needs to draft teams.
Try a real Draft for free with a Demo Group after signing up.
1

Load Players

Sign up and then load the league's players from a spreadsheet. You can even add player photos.
2

Set Up Your Draft

Add your coaches and then enter your draft details. You can pre-assign or "slot" players before the draft begins.
Which Sports
OnlineDraft works great for all youth and adult sports leagues that need to form teams from a pool of players: baseball, softball, basketball, soccer, football, hockey, lacrosse, ultimate frisbee, kickball and more.
Easy Import
It takes just a couple of minutes to load your players into our system from a spreadsheet. Include up to 5 customizable fields per player plus an optional Admin Rank and contact info (only available to assigned coach).
Pick from Draft Board
Connect your laptop to a TV and run your draft from the draft board . Each coach can use their own device to see a list of available players updated in real time. You can also pre-select or "slot" players from the draft board and make sibling or buddy picks during the draft.
Remote Draft Option
Some or all of the draft participants can be remote. If a coach cannot make the draft, they can pick from anywhere with any internet connected device. If the leagues wants, everyone can draft remotely. Having this option available makes sure that all coaches can participate in the draft AND you can keep to your schedule!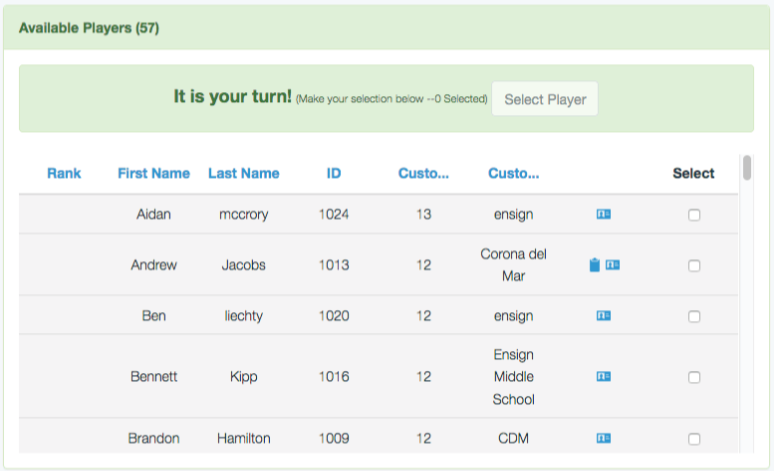 Draft Preparation
When loading your players, you can include up to 5 customizable columns plus comments and an ID. You may optionally include photos (bulk loading available) and an Admin Rank. Player details can be made available to all coaches in advance of the draft to GREATLY improve draft preparation and team parity.
Draft Results & Player Management
The draft results are available immediately to all coaches/managers. Filter the results and click on the EXCEL button to download your roster including contact information.
Admin Rank
Using Admin Rank, your league can quickly apply a ranking order to all players. This rank can be generated by an objective party, or it can be the average of participating coaches, or it can be generated however your league wants. The Admin Rank becomes the default ranking for all players.
League Parity
Many sports leagues are trying to form more balanced teams. OnlineDraft can help with Admin Rank, which allows for a league ranking on each player that is available to all coaches / managers. With Admin Rank set, coaches should be able to make better selections throughout the draft. In addition OnlineDraft is a transparent system where all draft picks and trades are logged and details are to the entire group.
Easy Ranking
With our simple ranking system, we make it easy for each draft participant to get ready for the draft. Coaches/Managers can rank the players at any time before the draft. The rankings will be available at the Draft and coaches can bring an internet connected device and have the players available updated in real time.
Bulk Photo Upload
Easily add photos for each player.
League Rules
The OnlineDraft system has all of the functionality needed to comply with your league's official draft rules and regulations. Players can be easily loaded from the registration data via a spreadsheet. The draft order, configuration, and details remain password protected. The league administrator has complete control over access to the draft system.
Don't use little league baseball draft sheet templates! Use OnlineDraft -- the best youth / adult sports draft software!